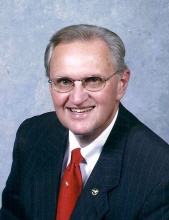 Obituary for Dr Ron Leland Herrod
Dr. Ron Herrod, age 75, of Knoxville, passed away Tuesday, October 9, 2018.
In 1995, Ron Herrod began R.H.E.M.A. (Ron Herrod Evangelism Ministries Association) following 36 years as Senior Pastor of some of America's largest and fastest growing churches. His ministry has included national television, crusades and mission projects in more than 30 countries throughout the world, an international tape/CD ministry, and the writing of seven books. Dr. Herrod has served his denomination (Southern Baptist Convention) on the International Mission Board, Louisiana College Board, Southern Seminary Board, Vice-President of the SBC's Pastor's Conference, President of Tennessee Pastor's Conference, President of the Conference of Southern Baptist Evangelists (COSBE) and served as First Vice President of the Southern Baptist Convention.

He is a graduate of William Carey College (BA), New Orleans Baptist Theological Seminary (ThM), and Luther Rice Seminary (ThD). He has twice been elected President of the Luther Rice Seminary International Alumni. He was honored as Alumnus of the Year in 2000 (LRS) and 2013 (NOBTS). He was inducted into the William Carey University Hall of Fame in 2016. His preaching ministry began in 1958 and 2018 marks 60 years of preaching and 23 years in evangelism.

Survivors: Wife of 55 years, Emily Penton Herrod; Son, Joseph (Amy) Herrod;
Daughters, Dawn (David) Gipson, Twila (Claude) Williams; Grandchildren, James (Katy) Hearon, Emily (Mike) Williamson, Micah Gipson, Sarah Gipson, Ashley Herrod, Jackson Herrod, Emmitt Williams, Eli Williams, Emory Williams, Ellie Gipson, Gracie Gipson; Sisters, Sherry (Tommy) Calhoun, Shirly (Joe) Kelley; and
Nephews, Brad (Joy) Penton, Josh (Jennifer) Calhoun, David (Nancy) Calhoun.

The Family will receive friends 11 AM- 1 PM Friday with funeral service to follow at 1 PM at Sevier Heights Baptist Church with Dr. Hollie Miller, Dr. Ron Stewart, Joseph Herrod and Pastor Jake Thornhill officiating. Family and friends will meet 3:30 PM Friday at Atchley Funeral Home Seymour and process to Bethel Cemetery 2776 Bethel Church Rd. Sevierville, TN 37876 for graveside services and interment. Arrangements by Atchley Funeral Home, Seymour 122 Peacock Court, Seymour, TN 37865 (865-577-2807). Online condolences hay be made at www.atchleyfuneralhome.com.
Previous Events
Visitation
Sevier Hieghts Baptist Church
3232 Alcoa Highway
Knoxville, TN 37920
Service
Sevier Hieghts Baptist Church
3232 Alcoa Highway
Knoxville, TN 37920
Graveside
Bethel Cemetery
2776 Bethel Church Road
Sevierville, TN 37876