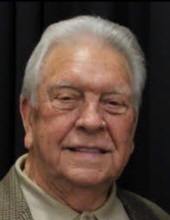 Obituary for Will Godsey
Will Godsey, age 83 of Sevierville, passed away Sunday, December 2, 2018.

He is survived by his wife Helen Godsey; daughters Sandra (Richard) Brent, Patricia (Peter) Elder, Marsha (Bill) Falknor; grandchildren Nathan Low, Amber Wilhelm, Alisha Badger, Adam Liverman; great-grandchildren Alexis Low, Eric Low, Paris Perry; brother John Godsey.

The family asks that donations be made to Caris Healthcare, 1124 Fox Meadow, Suite 4, Sevierville, TN 37862 in Mr. Godsey's memory.

Services for Mr. Godsey will be private.