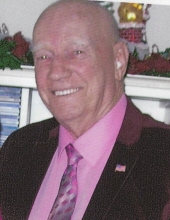 Obituary for Lewis LeRoy Ridlon
Lewis LeRoy Ridlon, age 84, of Gatlinburg, passed away Friday, November 10, 2017 at LeConte Medical Center with his beloved wife by his side. He was born and raised in Haverhill, MA, and moved to Danville, NH in the late 1970's before moving to Gatlinburg, TN. He was a retired Teamster, Past Patron Fidelity Chapter #90, a 32nd Degree Mason and a life member of the Crescent Yacht Club in Haverhill. He was a Veteran of the United States Army serving in the 147 Airborne, and was a life member of AmVets Post # 147 in Haverhill and American Legion Post # 34 in Plaistow, NH. Mr. Ridlon was a member of Roaring Fork Baptist Church in Gatlinburg and a former member of Island Pond Baptist Church in Hampstead, NH. He and his wife Dorcas traveled many years as Campers on Mission.

He was preceded in death by his parents, Percy and Pearl Ridlon; step-daughter, Julia DiVincenzo; nephew, Stephen Blackey; and sister-in-law, Shirley Ridlon.


Survivors: Beloved wife: Dorcas Ridlon; Daughters: Diana Bujnowski, and Michelle DeFeo and her husband, Stephen; Son: Lewis Ridlon and his wife, Tammie; Step-Children: Danny Heselton and his wife, Laurie, and Jeana DiVincenzo; 13 Grandchildren, 7 Great-Grandchildren; Sisters: Charlotte Batchelder and her husband, Danny, and Carol Rogers; Brother: Donald Ridlon; Several nieces and nephews.

In lieu of flowers, memorial contributions may be made to the Roaring Fork Baptist Church, Building Fund, P.O. Box 1474, Gatlinburg, TN 37738.

The family will receive friends 1-2 PM Saturday with memorial service starting at 2 PM at Atchley's Smoky Mountain Chapel, Pigeon Forge with Dr. Kim McCroskey officiating. Online condolences may be made at www.atchleyfuneralhome.com.
Previous Events
Visitation
Atchley Funeral Home
220 Emert Street
Pigeon Forge, TN 37863
Atchley's Smoky Mountain Chapel, Pigeon Forge
Service
Atchley Funeral Home
220 Emert Street
Pigeon Forge, TN 37863
Atchley's Smoky Mountain Chapel, Pigeon Forge