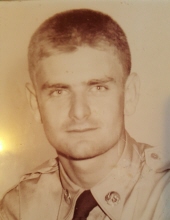 Obituary for Charles "Carlo" Grant Vezzani
Charles "Carlo" Grant Vezzani, age 84 of Gatlinburg, passed away Tuesday, January 9, 2018 at his home. He was a veteran of the United States Army and served in the Korean War earning a Purple Heart, a Silver Star, and a Bronze Star. He owned Atlanta Diver Supply and Treasure and Salvage Diving and was given the GSDA Award. He eventually settled in Gatlinburg as a certified jeweler and owned a jewelry store. Carlo had a giving heart, and was always helping others.

He was preceded in death by his parents, Ruffo and Tosca Vezzani, his brother, Eugene D. Vezzani, and best friend, Ernie Fullerton.

Survivors:
Wife: Michelle L. Vezzani;
Daughters: Tosca Vezzani Lopez and husband Juan, Charlie Vezzani Ayers and husband Tommy , Bionca Vezzani and boyfriend Shawn Hodge, and Lori Vezzani;
Grandchildren: N. Barik Swift, Carlitos Lopez, Luciano Lopez, Tanner Green, Keylin Hodge, Gavin McKemy, and Crockett Ayers;
Sisters-in-law: Betty Vezzani, Gypsy Maples and husband Steve and family;
Special friend Omar Yescas and many other friends and family.

In lieu of flowers, memorial contributions may be made to Atchley's Smoky Mountain Chapel to benefit the family.

No services are planned at this time. Arrangements by Atchley's Smoky Mountain Chapel, 220 Emert Street, Pigeon Forge, TN 37863. Online condolences may be made at www.atchleyfuneralhome.com.