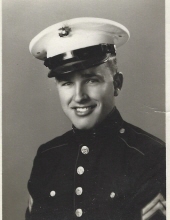 Obituary for Dr. Robert Eugene Settle
Dr. Robert Eugene Settle, age 88, Seymour, TN, passed away Friday March 9, 2018.

He "discovered America" April 8, 1929 in Knoxville, TN and was orphaned at age 8. He trusted Jesus as his Savior at age 12. He served in the U.S. Marine Corps from 1952-1956 and obtained the rank of Sargent. He graduated from Tennessee Temple College in 1959 and married the love of his life. He pastored for 52 years beginning at Hillview Baptist Church in Dalton, GA; Grace Baptist Church in Miami, FL; Tabernacle Baptist Church in Hickory, NC; and Liberty Baptist Church in Pigeon Forge, TN. He received two Doctors of Divinity, helped found Tabernacle Christian School and Catawba Valley Baptist Bible Institute. The most treasured part of his life were the many friends and neighbors he introduced to Jesus Christ. He loved his God, his Family, his Church and his Country. He loved to serve others. He loved world missions, and he loved the "bus kids".

He was preceded in death by his father: George; mother: Alice; siblings: Agnes, Clella, Edrick, Dossie, Cas, Pauline, and Bruce.

Survivors:
Wife: Joan Hamblen Settle
Children: Mark and (Irene) Settle, Westland, MI; Mike and (Sherri) Settle, Anderson, SC; Chris and (Lori) Settle, Seymour, TN; (Bruce) and Cathy Wachter, Maryville, TN; (Derek) and Carrie Dyer, Harpers Ferry, WV; Matthew and (Maria) Settle, Buenos Aires, AR.
Grandchildren (Will) and Mallie Plonk; (John) and Claire Hirte; Jessica Wachter, (Jacob) and Raechel Jacox, James Settle, Jacob Wachter, Thomas Settle, (Gregg) and Theresa Dupree, Houston Settle, Michelann Settle, Brandon Settle, Clifton Settle, Sarah Dyer, Robert Dyer, Joanie Dyer, Rebekah Settle, Patrick Dyer, Charlie Settle, Preston Settle, Cecily Dyer, Britta Dyer, Aven Settle, Nalu Settle
Great-grandchildren: Alethia Plonk, Everly Plonk, Levi Dupree
Brother and sister-in-law: Ford and (Marianne) Settle; Mike and Alice Hamblen
10 Nieces and 6 Nephews

In lieu of flowers, memorial contributions can be made to Randy and Carmen Shook,
Missionaries to Thailand, c/o: FBMI, 507 State Street, Hammond, IN 46320

The family will receive friends 1-3 PM Saturday, March 17, with a celebration of life service to follow at 3 PM at Liberty Baptist Church in Pigeon Forge, TN. Family and friends will meet 11 AM Monday in Byrams Fork Cemetery in Andersonville, TN on Monday, March 19, 2018. Online condolences can be left at www.atchleyfuneralhome.com.
Previous Events
Visitation
Liberty Baptist Church
Pigeon Forge, TN
Service
Liberty Baptist Church
Pigeon Forge, TN
Graveside
Byrams Fork Cemetery
200 Byrams Fork Road
Andersonville, TN 37705