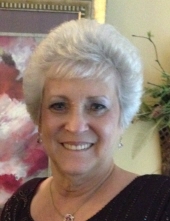 Obituary for Virginia Mae Eastridge
.Virginia Eastridge, age 75, of Seymour, passed away at home surrounded by her loving family June 7, 2018. She was a member of Knob Creek Baptist Church. She was preceded in death by her husband, David E. Eastridge, brothers, Oliver Parton, and James A. Parton, parents, Crawford and Dora Parton.

Survivors:
Sons and daughters-in-law: Scott Gibson and Bob Gibson and Laura Chambers.
Step-sons: Robbie and Kristi Breedlove, Eric and Sheri Eastridge, Jason Eastridge, Marshall Eastridge, Cain Coker.
Daughters and sons-in-law: Pat Escobar, Debbie and Jeff Romines.
Step Daughter: Wendy Rhodes- and Tony Atkinson
Grandchildren: Katie Breedlove, Ethan, Emily and Everett Eastridge, Abby and Ally Gibson, Zach and Case Taylor, Derrick Gamble, Tyler and Jorden Gamble, Holly and Cody King, Megan and Dillon Baldwin, Erica Bradburn, James and Holly Bradburn.
Great-grandchildren: Lexi Brown, Addisen and Aiden Gamble, Reed King, Casey and Chance Coker, and Nolan Bradburn.
Sister-in-law: Ruth Parton.
Uncle: Frank and Bernice Parton
Special friends and Family Members: James Davis, Janice Ammons, Becky Nigara, Mary and Ron Kilzer, Linda and Lawrence Garner, Peggy Chapman, Rose Bedwell, April Cogan, Carol McCorkle, Michelle and Terry Parton, Kevin Stone, Frank and Estalee Stoffle and Gail Parton.

Funeral Service 7 PM Monday in Atchley's Seymour Chapel with Rev. Terry Parton officiating. Graveside service and interment 10 AM Tuesday in Ellejoy Cemetery The family will receive friends 5-7 PM Monday at Atchley Funeral Home Seymour, 122 Peacock Court, Seymour, TN 37865. (865) 577-2807. Online condolences may be made at www.atchleyfuneralhome.com.
Previous Events
Visitation
Atchley Funeral Home
Seymour

Service
Atchley Funeral Home
Seymour

Graveside
Ellejoy Cemetery
Seymour, TN